Dancing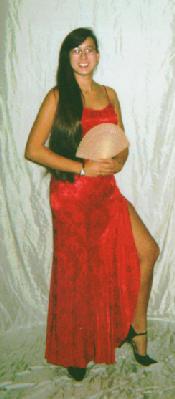 My red tango dress. 1997

These are some of the dances I learned something in at one point:

Ballroom/ Latin Dances:
Aerials for Swing
Argentinian Tango
Cha Cha
Foxtrot
Gallop
Hustle
International Waltz
Jive
Lindy Hop
Mazurka
Merengue
Nightclub Two-Step
Polka
Quickstep
Rhumba/ Bolero
Salsa/ Mambo
Samba
Schottiche
Swing
Tango
Viennese Waltz
Waltz
West-Coast Swing
Victorian Dances:
Bohemian National Polka
Congress of Vienna
Jolly Dog Polka
Sir Roger de Coverly
Strip the Willow
Country Partner Dances:
Canadian Barn Dance
Cha Cha Mixer
Colorado Cha Cha
Cotton Eyed Joe
Cowboy Cha Cha
Desert Moon
Desperado Wrap
Drifter
Horseshoe
Round Robin Waltz
Schottische
Shadow
Sixteen Step
Ten Step
Two Step
West Coast Swing
Country Line Dances:
Beer For My Horses
Black Velvet
Bocephus
Candy Man
Cannibal Stomp
Chocolate City Hustle
Copperhead Road
Cowgirl Twist
Dance Ranch Romp
Electric Slide
Fat Sally Lee
Fever
Gatlin Boogie
Got To Be Funky
Honky Tonk Stomp
Honky Tonk Twist
I Like It
Latin Lasso
Linda Lu
Men In Black
MMM Bop
Mustang Sally
Ooohh, Ahhhh
Power Jam
Push
Saddle Rack 'n Roll
Slap, Stomp, and Roll
Slappin' Leather
Smokin'
Swing Time Boogie
Thump
Travelling 4 Corners
Tush Push
Uno Dos Tres
Watermelon Crawl
Wild Wild West
You Ain't Goin' Nowhere
The Claremont Colleges Ballroom Dance Team has a home page.
I learned Swing Aerials at the Pasadena Ballroom Dance Association class.
The majority of the country dances I've learned have been through Gottadance Dance Club at the SaddleRack.
I learned victorian dances at the Mudd Occasional Balls and the Gaskell Balls.
Home